If you no longer need to renew your subscription, you can cancel it yourself.
If your subscription was purchased on the Fotor website.
1. Please go to the "Account Setting" and choose "Subscription".
2. Click the "Cancel" button to cancel your subscription.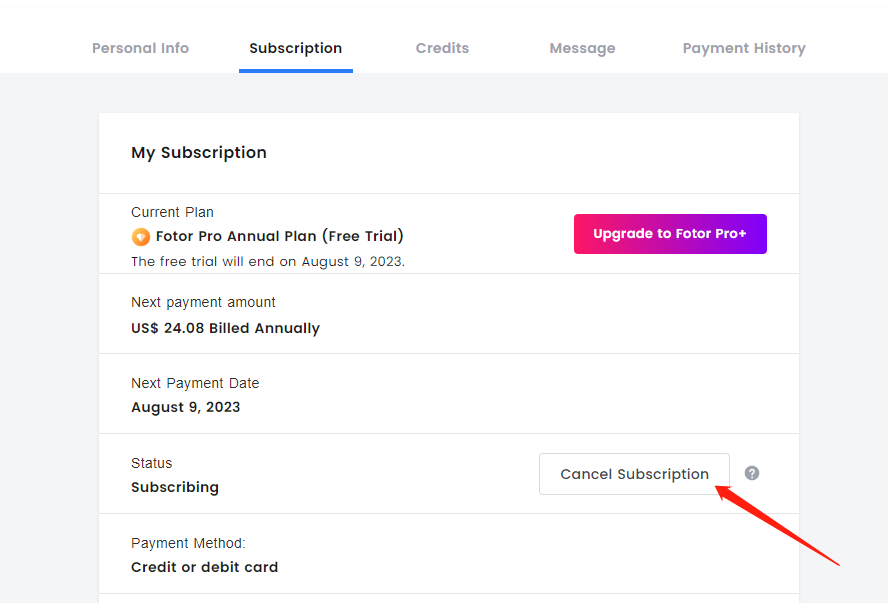 If your subscription was purchased on an Android device (Google Play).
Please go to Google Play Store to check the "Subscription Management" and cancel the Fotor/Goart subscription. Please check the details in the Google play Help Center.
If your subscription was purchased on an iOS/Mac device.
Please go to the App Store->Personal info(the Avatar)->subscription management-> Fotor/Goart - Photo Editor, Designor to cancel your subscription renewal.
Once canceled, you can still enjoy your package until the end of your current subscription period, and no more recurring payments will be made.If the subscription renewal is not canceled in time, the system will automatically renew your subscription and deduct the corresponding subscription fee.
Warning: If the deduction fails, the system will try to deduct the payment several times until the deduction is successful. During this period, if you successfully cancel the subscription, then what you cancel is the next subscription renewal, and the system will continue to charge the fee for the failed deduction.
If the above still does not solve your problem, please contact us.